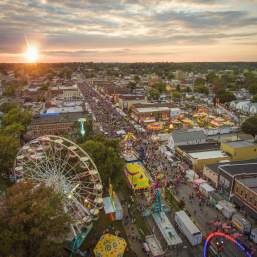 Explore Evansville, IN
WHERE EVERYTHING IS WITHIN REACH
As the regional hub for the Tri-State area, Evansville is known for its small-town feel with the perks and amenities of a big city. Evansville is located on the scenic bend of the Ohio riverfront, where everything is within reach. Evansville is home to several significant cultural, historic and artistic sites. Whether you're exploring vibrant downtown, catching a concert at the Ford Center, or taking a trip through history at the WWII museum, you will find yourself greeted with Hoosier hospitality.
*Photo Credits: Alex Morgan Imaging
Bring your next event to our historic community along the Ohio River. Evansville offers a wide variety of affordable venues for sporting events, concerts, conventions and more.
45 meeting facilities and 3,900 sleeping rooms
Walkable downtown and short commutes to any part of the city
Accommodations to suit any budget and need including hotels, bed & breakfasts and short term rentals
Submit an RFP
Our sales team is committed to providing exceptional service to meeting and convention planners. We understand the challenges of organizing successful events and offer a wide range of services, including personalized assistance, site visits, and customized proposals. From start to finish, we are dedicated to making your event planning experience seamless and stress-free.
Read More
We at Explore Evansville appreciate the unique requirement of each group. We prefer to "custom fit" your group and avoid "assembly line" meeting and convention packages. We will review your RFP - and follow-up with you to provide information about the specific features and benefits you'll find in Evansville that will fulfill your group's specific needs and interests.
Read More
Evansville's unique collection of attractions offer a variety of experiences for all ages and interests. With so much to see, why limit yourself to just one?